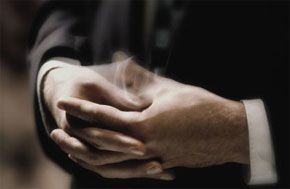 We're really in the doldrums now, aren't we? We're right in the middle - far enough from the beginning that the newness has worn off, but so far away from the end that it's nowhere in sight. And
everyone's
been quiet for the last few days - how are you doing?
This is where things can get boring and when boredom sets in, all sorts of hazards pop up. I get cranky when I'm bored. And when I get cranky I want to eat. Or drink. The bad stuff. You know what I'm talking about - that mindless, hollow-eyed, open-mouthed gorge fest in front of the TV with a simple, constant hand-to-mouth movement and rhythmic grinding of the jaws - it's enough to level the brainwaves and numb the mind. (They say Yoga's supposed to have a similar effect, but after years of practice I've never achieved the same bliss that occurs when my fingers are covered with Cheetos dust and I'm watching Molly
Ringwald
and the rest of the Breakfast Club punk dancing in the library of
Shermer
High.) So when I'm cleansing and hit that wall of boredom I can get pretty edgy and irritable. And I need to find something else to keep me busy. Or calm me down.
On Wednesday I took a bike ride with my husband after work. I didn't want to go because it was so windy - I hate riding my bike in the wind. But this time I decided use it to my advantage. I welcomed the added resistance as a way to intensify my workout. We only rode about 9 or 10 miles but when we got home I'd burned off enough stress that I was much more relaxed than before the ride. I whipped up a nice plate of leftovers for dinner, then settled in with my book - "Blogging for Dummies" (what else?!). So instead of falling off the wagon I got two great things out of the evening - a nice workout and more information about blogging. On top of that, I got to do something enjoyable and healthy with my husband. And I slept like a baby.
Last night I did a Yoga workout and some more reading. Then I studied Italian. No Cheetos required.
So what are you doing to to alleviate the boredom and restlessness that often accompanies this part of the cleanse? Anyone have any good ideas? And how are you doing in general? Would love to know!